Our USA National Parks Maps feature all 63 National Parks as well as major cities, historic locations, scenic trails, and more! Use a USA map to plan, track, and explore fascinating sites within the United States.
---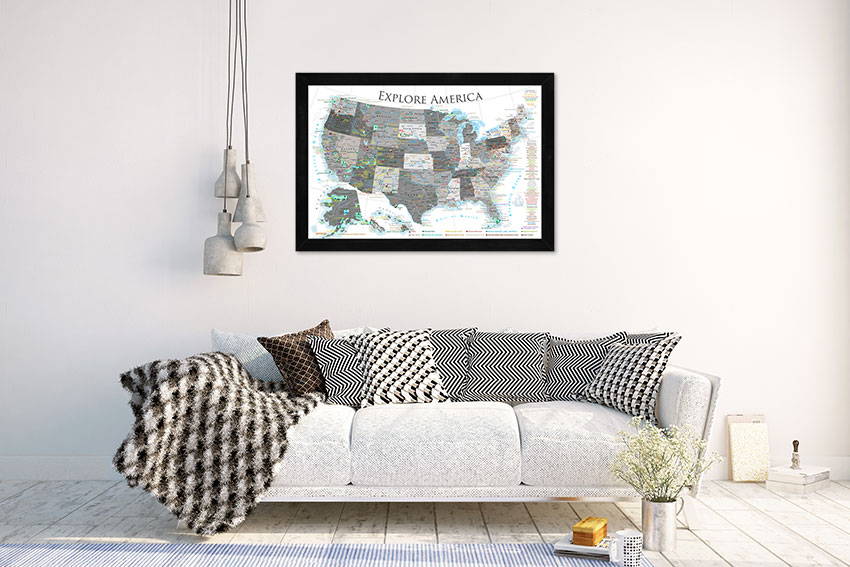 Geographical Information In Our USA Travel Maps
Our USA National Park Travel Maps feature all of the National Park Service locations, National Monuments. Historical Sites, Battlefields, Lake Shores, National Preserves, and other fascinating destinations within the United States. These are the gems of our nation and what makes the United States special.
Within each National Parks Map you'll find:
✪ Detailed cities & significant locations across the USA
❃ USA Interstates and Major Rivers
✦ Over 600 National Park Service Sites (includes all 63 National Parks open for operation as of 2022)
★ Historical Cities (O.K. Corral, St. Augustine, Colonial Williamsburg, Jamestown, Mackinac Island, Branson, historic western towns, and more)
✪ Extraordinary Places (Barringer Crater, Biosphere 2, Golden Gate Bridge, Four Corners, Hoover Dam, Niagara Falls, and more)
▲ The location of the tallest elevation in every state - numbered from the highest (1 in Alaska) to lowest elevation (50 in Florida)
✔ 10 of the most climbed peaks in the USA with the peak name and elevation in feet
●●● National Scenic Trails that span the USA
Do you love National Parks? If so, take a look at our US National Park Checklist to help plan your next USA adventure! We also have a helpful list of US National Monuments that can be visited alongside our country's beautiful National Parks.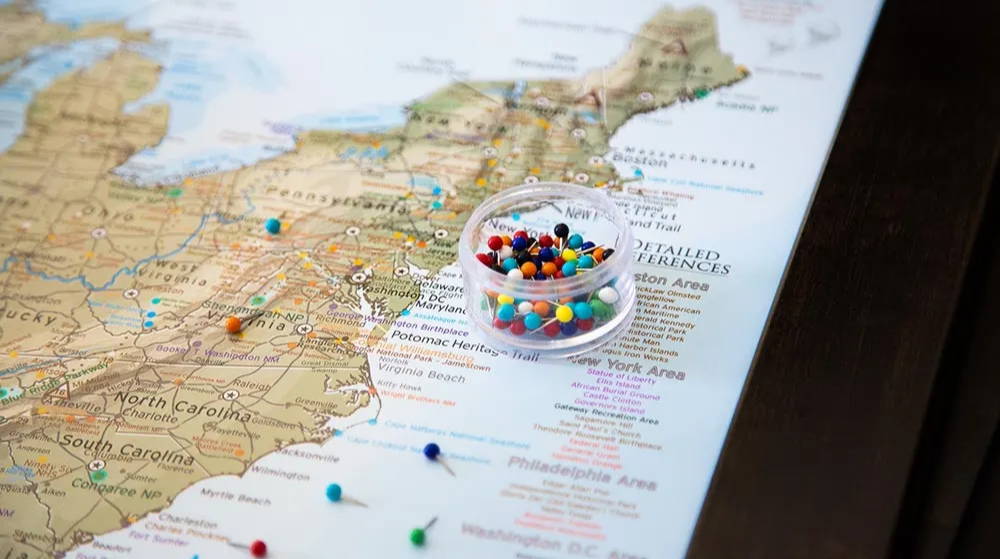 What's Included With Your USA Push Pin Map
When you order a framed map you'll receive 100 multi-colored push pins as well as a fun guide on how to start pinning your favorite destinations.
All framed maps are assembled with wire and are ready to hang the moment they arrive to your door.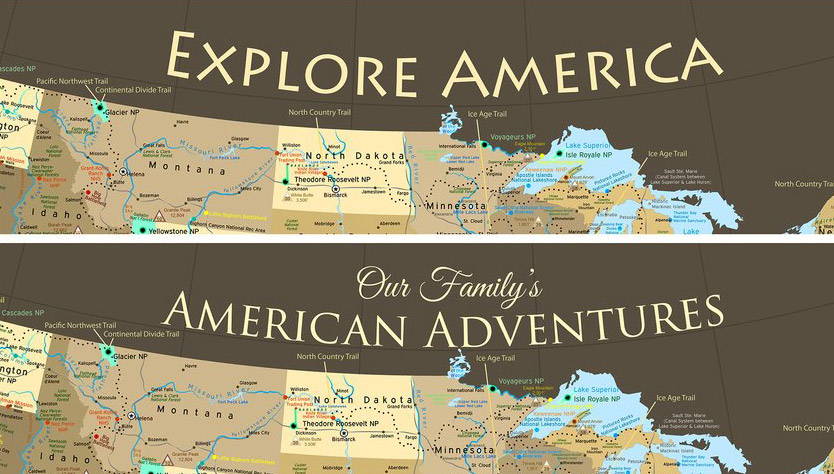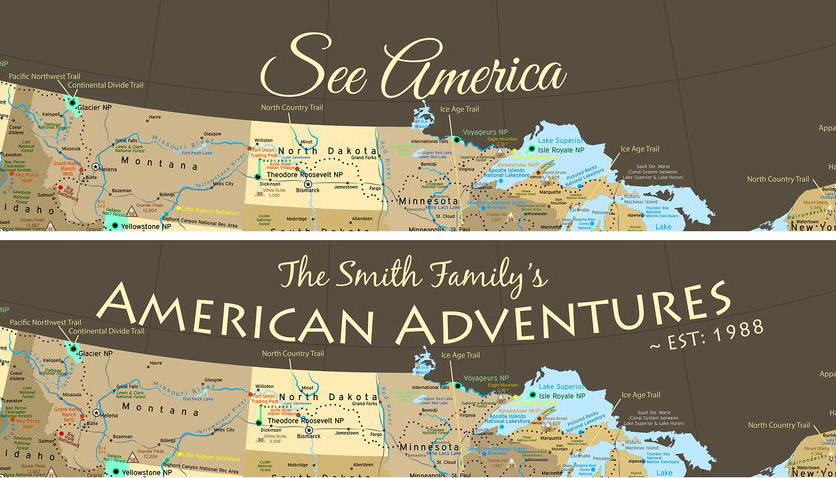 You can choose between various titles, compass and framing options for your US Travel Map. Add your family name or favorite quote to the title so that it's truly one of a kind.
You can read more about our map customization options here.
Our push pin maps can be ordered in a variety of sizes and will accommodate any space within your home or office. Take a look at the video below to see a side by side comparison of our map sizes.
We offer each Map of National Parks in three finish types: framed satin paper, framed canvas and canvas wraps. See the video below for a side by side comparison of our finish types.
Every component of our products are made in the USA!
The maps are produced on the highest quality printer, paper, and archival inks for rich color depth. We mount all of our framed maps to gatorboard, a strong material that's designed to last for a lifetime.
We also offer USA Map Posters.
Maps are fun to receive, fun to explore, and fun to cherish.
They are educational and inspirational!
They are great for every age, gender, and occasion.
Maps are the perfect wedding gift.
They are the perfect anniversary gift.
Mother's Day or Father's Day Gifts!
Give your Grad the World! Maps are perfect for celebrating graduation and starting out in the world.
They are perfect to celebrate a newborns's life in our world!
Kids love maps!!
Perfect for retirement gifts!
Push Pin Maps make beautiful travel decor.
We can Gift Wrap your product and include a nicely appointed card in your order.
Add a special card message in any of the "Order Notes" and we will prepare it as a special card for your giftee.
---