Our World Push Pin Maps feature ancient civilizations, famous voyages, UNESCO World Heritage Sites, and much more! Use a Push Pin World Map to plan, track, and explore fascinating sites throughout our diverse planet.
---
---
World Travel Map Overview
The details matter: Our products are created by a professional Geographer and Cartographer who has the passion and experience to create impressive maps.
What are the differences between each world travel map?
The main differences are the colors and cartographic styles. The informative details (labeling) are the same throughout the maps with a few exceptions:
The Voyager 2 includes snow/ice modeling. We use the MODIS satellite from the month of February to show the snow/ice landscape - which you can see in the northern hemisphere.
The Voyager 1 excludes the snow/ice modeling, so you are able to visualize the elevation and landscape of the terrain.
The Magellan World Map features additional facts about Ferdinand Magellan's epic voyage around the world.
The Voyager, Nautilus, Magellan, and Darwin World Maps include modeling of the landscape and terrain (desert, forests, flat lands, and more) and elevation features - which illustrate the mountainous regions. We applied a hillshade to model the sunlight at 3 p.m. consistently around the world. The hillshade provides a 3D effect. It is a flat surface - yet looks 3D due to the incredible modeling technique.
The Voyager, Nautilus, and Magellan World Maps include all 63 USA National Parks (as of January 2022). In addition, all of these maps include a number of renowned National Parks around the world.
The Endeavor, USS Enterprise, Humboldt, and Columbus World Maps provide a classic look of Earth without terrain modeling. Each of these maps depict beautiful cartographic styles - from modern, sleek designs to antique designs that depict the character of old world maps.
All of the maps feature our ocean floor elevation modeling derived from NOAA oceanic data. This data illustrates the formations of islands, archipelagos, plate tectonics, and ocean currents.
Geographical Information in our World Maps
Our products are perfect for tracking past & future travels.
All of the World Maps with Pins include the same detailed information:
✪ Geographic and historic commentary
✪ Wonders of the World highlighting over 100 fascinating places on Earth
★ Exceptional National Parks around the World
▲Tallest Peaks on every continent (special annotation)
❃ Named oceanic tectonic ridges and basins
✪ Our accurate terrain and ocean floor elevation modeling
Voyager, Nautilus, and Magellan also include:
▲ Detailed Terrains for Mountains
✦ Elevation and Landscape Modeling (Deserts & Tropical)
❆ Climate Modeling for snow covered regions and sea ice
✔ The major US National Parks (63)
Our products are a fun package to open:
The maps are well packaged and delivered in a large box.

Every framed map is mounted on a pin board using a large machinery to embed the map.

100 multi-colored push pins and pin storage case.

A fun guide on how to get started with your Push Pin World Map.
Personalize Your Travel Map
You can choose between various titles, fonts and framing options for your World Travel Map. Add your family name or favorite quote to the title or compass so that your map is truly one of a kind.
You can read more about our map customization options with our custom examples.
Our maps can be ordered in a variety of sizes and will accommodate any space within your home or office. Take a look at the video below to see a side by side comparison of our sizes.
We offer maps in three finish types: framed satin paper, framed canvas and canvas wraps. See the video below for a side by side comparison of our finish types.
Every component of this product is made in the USA!
Our maps are produced on the highest quality printer, paper, and archival inks for rich color depth. We mount all of our products to gatorboard, a strong material that's designed to last for a lifetime.
We also offer World Map Posters.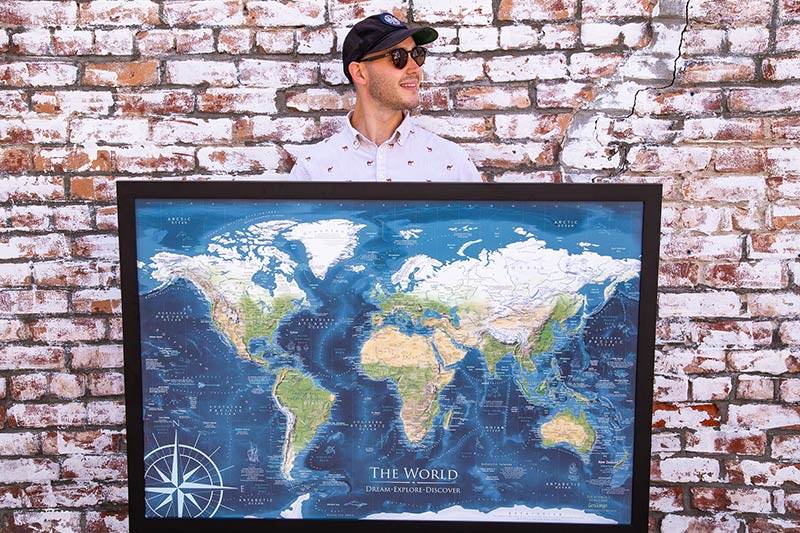 Maps are fun to receive, fun to explore, and fun to cherish.
They are educational and inspirational!
They are great for every age, gender, and occasion.
Perfect for weddings.
They are the perfect anniversary gift.
Mother's Day or Father's Day Gifts!
Give your Grad the World! Maps are perfect for celebrating graduation and starting out in the world.
They are perfect to celebrate a newborns's life in our world!
Perfect for retirement gifts!
We can add Gift Wrap and include a nicely appointed card in your order.
Add a special card message in any of the "Order Notes" and we will prepare it as a special card for your giftee.
---