We recently had the opportunity to interview Heidi Giancola, a 24 year old Anthropology graduate who teaches English in Japan.
Over the course of our conversation, we learned what it's like to teach language abroad and to integrate into a foreign culture. In addition to this, we learned many interesting facts about Japan itself!
Let's jump right in.
---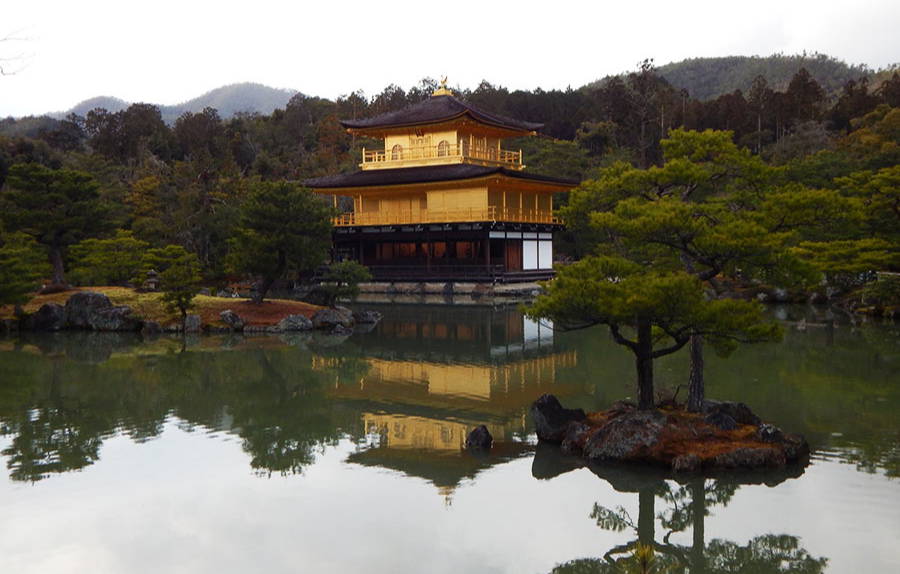 Kinkaku-ji Temple in Kyoto
How are you able to communicate with the students?
When teaching new English students, it's essential to use visual cues and short sentences. For example, I ask "When was lunch?" instead of "At what time did you eat lunch today?"
Similarly, I draw lots of pictures and physically express what I'm asking them to do.
Sometimes the students understand what I'm asking but are unable to answer in English. In this case, they respond in Japanese and see if other students are able to translate for them. If it's important enough, they can ask one of our bilingual teachers.
---
Do any students already have a working proficiency in English?
Students come to us with many different levels of English proficiency.
Some have had no exposure whatsoever, some have lived in English speaking countries, and others have one or more parents that speak English.
In most cases, students won't attend formal English classes until they're in 5th grade, at which point they would be about 11 years old. However, I teach students that are between 3 and 12 years old.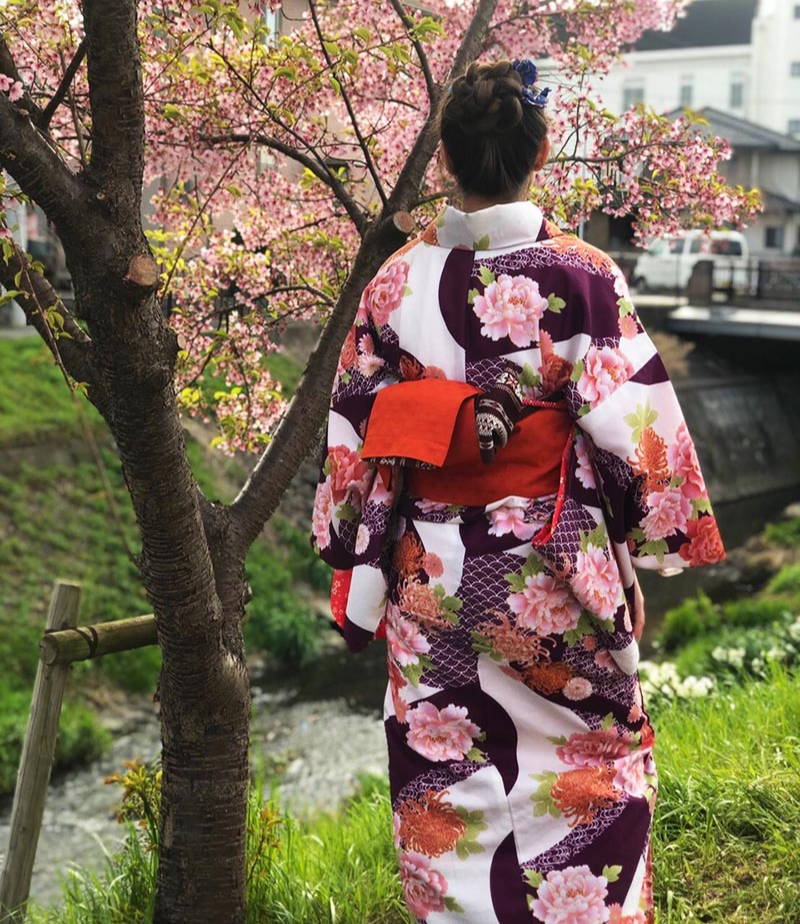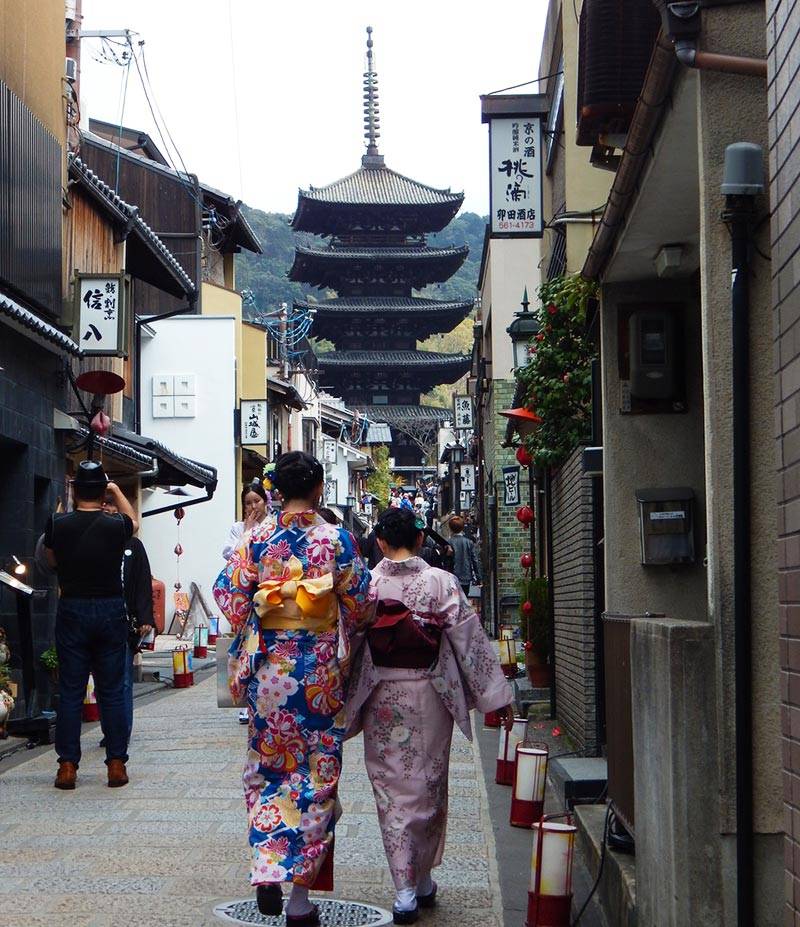 The Kimono is a traditional Japanese garment
What are the pros and cons on teaching language overseas?
The pro is that you get to work with some incredibly intelligent students; I have a four year old that's learning his 3rd language. It's definitely a challenge to learn another language and I applaud these students who come to learn English even after a full day of school.
Overall the job is very rewarding. I'm able to see the growth of students and watch their personalities blossom as they progress through the English language.
---
How about the pros and cons of teaching in Japan specifically?
Japan's Cost Of Living:
One pro for teaching in Japan is that you get a higher pay than some other countries that employ English teachers. In fact, Japan, China and South Korea have some of the highest paying positions for English teachers.
The downside to this is that Japan is very expensive. While it's possible to set a budget for yourself, it becomes difficult to save up much money. To add to this complication, I want to travel; buy unique Japanese souvenirs; and eat out at all of the amazing food places.
My advice is to not go into teaching if you're looking to make money. Instead, think of it as an opportunity to live in another country within the confines of a practical budget.
Japanese Holidays:
Another interesting aspect is that Japan doesn't have the same holidays as the United States. For example, I don't get Thanksgiving or Christmas off. Although this is the case, there are plenty of other holidays here that I wouldn't have received in the United States.
Almost every month we get an extra day off due to some holiday. I always ask the bilingual teachers why we have the day off and they usually don't know; there are too many holidays to keep track of.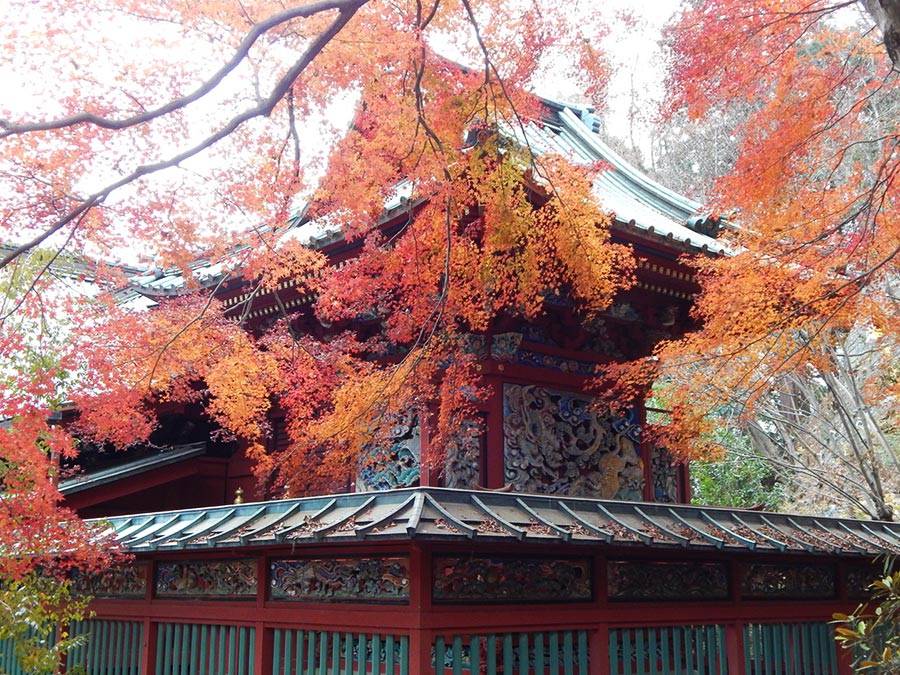 What kind of activities do you assign the students in order to help them learn English?
We incorporate English through play. There's a set vocabulary, which was decided by my company, and we teach that vocabulary to the students.
We also have different topics like science, math, humanities and social studies that we aim to teach the students. It's our job to create games to play within each lesson.
I play a lot of passing the ball and relay races while repeating the words and phrases. Playing games helps us hide the fact that we're actually teaching English.
We don't assign homework. However, I personally encourage siblings to use English at home so that they can practice outside of class.
For context: The kids are only allowed to speak English while they're at Kids Duo (the company I work for). We have a reward system where we give them stickers to put on their name tags if they try to only speak English throughout the day. If we hear them having a conversation in Japanese, we take the name tag away.
The kids are actually the best police for this system. They rat each other out all the time!
How would you describe the classroom environment that you teach in?
It's a fully English environment. The only time that the bilingual teachers use Japanese is when there are behavioral issues, or when a child is hurt and needs to express themselves in their native language.
There are two bilingual teachers and two native English speakers. We all get along great and I'm thankful to have such a great team. We make sure to have an open and joyful space that the kids feel comfortable in.
It can be very intimidating coming into a classroom where you don't understand anything that's being said. We try our best to minimize this fear by always smiling and speaking with a calm voice. Some of the younger kids can be scared of the native teachers as they are unaccustomed to foreigners.
To alleviate this, I try to make jokes as much as possible. Most of the time they don't understand. With elementary students, they tend to look at me like I'm crazy.
Kindergarten is always fun because they usually laugh whenever I laugh. They're generally more willing to attempt to speak English even if their understanding is very basic.
With regards to the behavioral differences between American children and Japanese children, kids are kids no matter where you are in the world. They can be unpredictable, fun and challenging!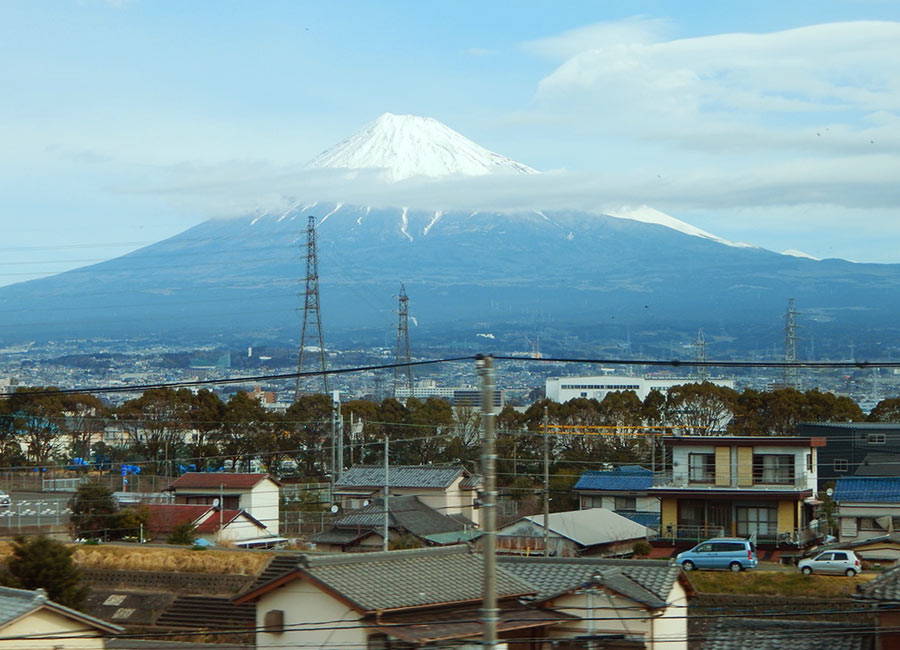 What have you learned about the educational system in Japan?
School Structure:
Their grade levels are structured similar to that of the United States. However, the school year is different. They start the year at the beginning of April and only have a month long summer break. Surprisingly, their summer break actually happens in the middle of the school year.
Additionally, high school is not free in Japan. There are private and public high schools but all of them cost money. There are also different levels of high school much like colleges in the United States.
The idea is that if you go to the better high school you'll go to a better college and then get a better job. To get into the better high schools, middle school students have to take a large entrance exam.
Since this test is so important, many students go to "cram schools" during their elementary and middle school years. These schools try to cram as much info in your brain as possible before the test. Because the process is so intensive, Japan is currently debating the need for standardized tests such as this.
Uniforms:
All schools require uniforms. The girls usually wear skirts and the boys wear shorts or pants. Even in the middle of winter these little kindergarten girls will come in with skirts on!
The kids also have to wear hats as part of their uniform, which is adorable. When you see children playing outside or walking on the streets, they are always wearing a hat. We have neon-orange hats at Kids Duo.
Writing Skills:
Japan has three scripts: Hiragana, Katakana and Kanji.
Hiragana and Katakana are the easier scripts. They both use the same sounds but there are two different ways of writing them. Young students learn these two first.
Kanji is the hardest and has the most characters – an uncountable amount. One Kanji character can have a whole meaning. This script derives from Chinese and the students learn a small amount of Kanji every year.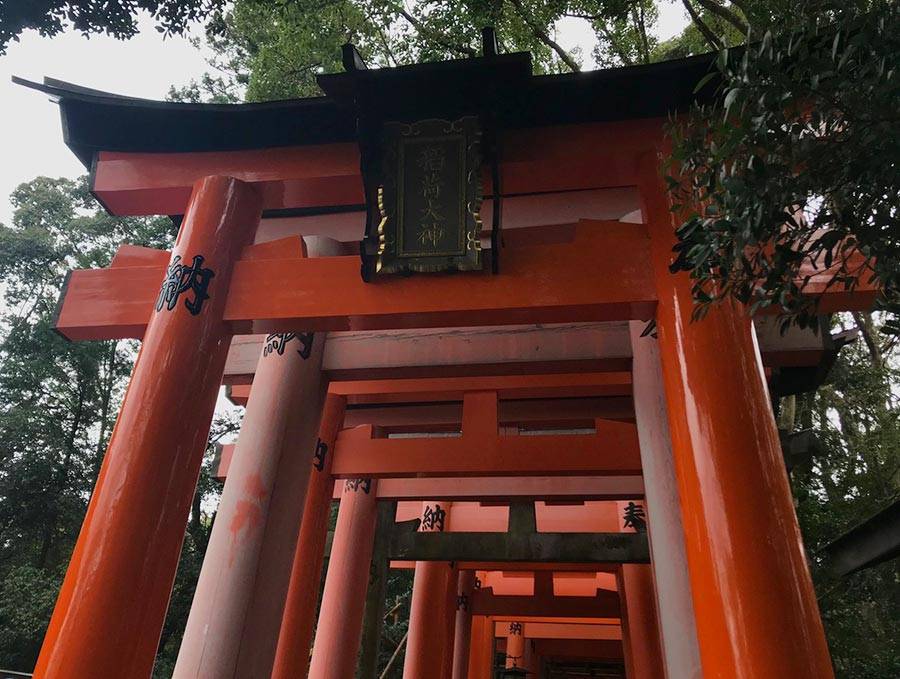 Can you share some of your thoughts and experience about living in Japan?
If you're into fashion, then this is a great place to live. The women are all dressed in fashionable clothes and it's hard to not want to buy everything in the shops.
Also, if you're a foodie, this is the place to come. I could go on and on about the amazing fresh food in Japan. I've truly never had a bad meal. The sushi is to die for and it's so reasonably priced.
There are many foods that I've fallen in love with since arriving. Some foods that I recommend are: Sushi, Ramen, Yakatori (meat skewer), Tako Yaki (octopus in battered balls that are grilled), Okonomiyaki (a savory pancake), and Gyoza (a Japanese potsticker).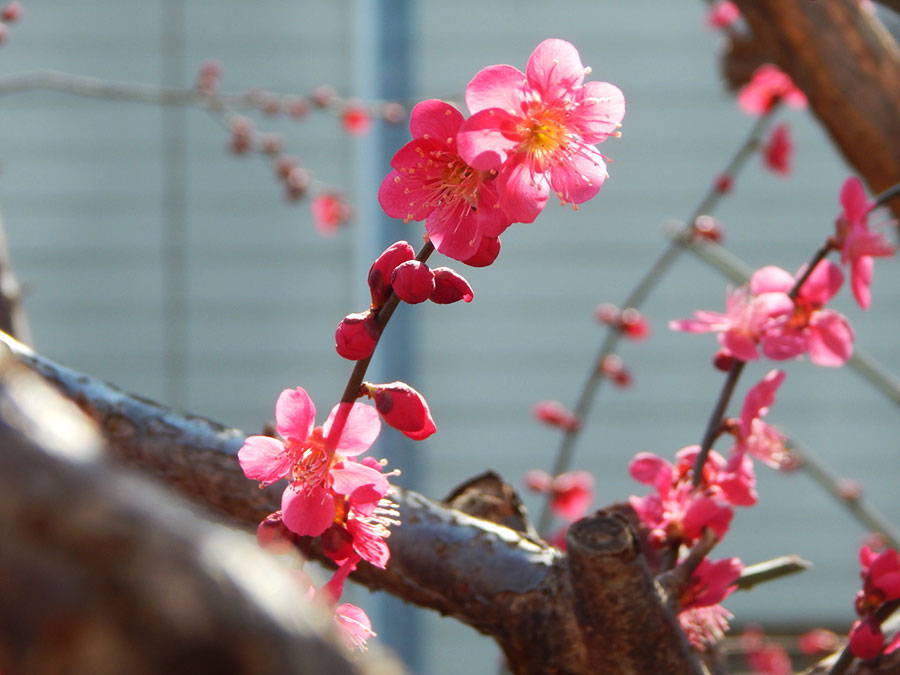 What cultural experiences would you like to share?
The most important thing to keep in mind is that Japanese culture is very different from America.
The trains are always very quiet, even when they are packed like sardines, so it's rude to talk on the phone. People will shove onto a extremely packed train yet there is always an awareness of self space. Because of this, I need to be careful about where I put my bags.
The most evident difference is that a lot of people wear face masks. If they have allergies or a cold, they'll wear the mask to avoid spreading germs. People will actually stare at you if you're coughing and don't have a mask. Sometimes people will also wear the masks if they have a blemish or have yet to put on makeup.
In tourist areas, girls will dress up in Kimonos to take pictures. They wear kimonos during special occasions like on Coming of Age day but they also dress up just for pictures.
There are many Kimono rental shops in places like Asakusa and Kyoto. I was nervous to wear one myself but then my Japanese friend suggested that we do it together. She told me that it would be perfectly normal for me to wear one, which made me feel more comfortable. I felt very privileged to be able to take part in such a special cultural experience.
A fun activity within some of the temples is fortune telling. You place a donation of about 100 yen into a box and then there are metal cylinders with sticks in them. You shake the metal cylinder until one of the sticks falls out of the little hole. The stick tells you a Japanese number. You find the corresponding box and then pull out the sheet and read your fortune. If you receive a good fortune, you get to keep it. If you receive a bad fortune, there are strings that you can then tie your bad fortune to in hopes of not letting it come true.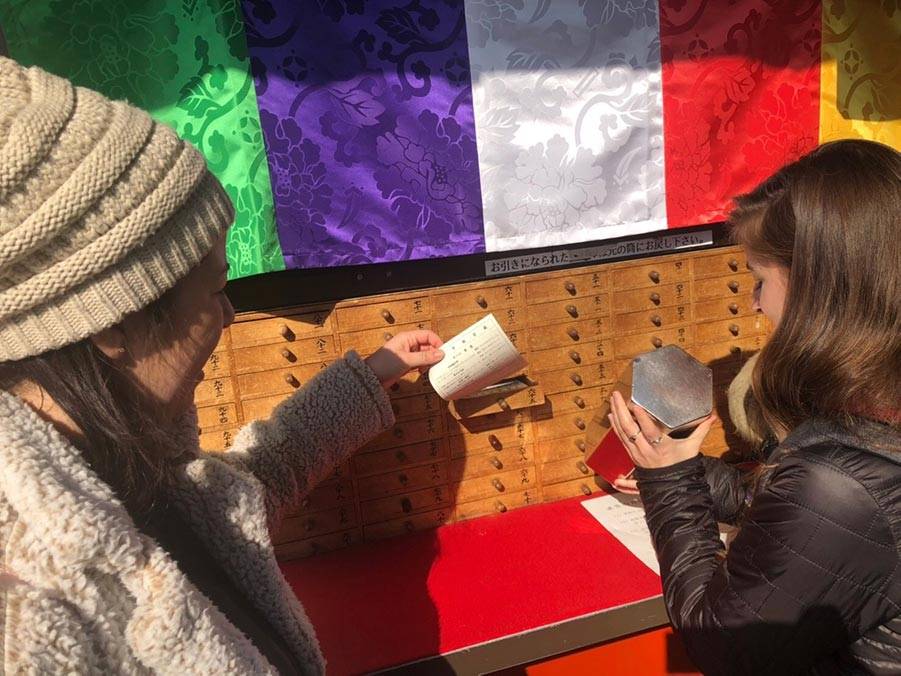 What sites in Japan would you recommend?
Tokyo:
I live in Tokyo so I've traveled around there a lot. Some other cities that I hope to visit are Osaka, Okinawa, and Hokkaido. My only advice for dealing with the trains and public transit is this: avoid the bus at all costs!!! And make sure to get a SIM card. Google Maps is my lifeline. I really would not be able to navigate without it.
Tokyo has many different districts that are interesting and expansive. My advice before traveling is to really look at a map and pick some attractions in one specific area. Tokyo is massive, so it can take some time to get to each destination. Check that your hotel is centrally located and close to a train stop so that you're near Tokyo's main attractions.
Asakusa:
One of my favorite temples is in the Asakusa area. It's a Buddhist temple that has a giant lantern called the Thunder gate. There are some great tourist shops here.
Additionally, within walking distance is Kappabashi. Kappabashi is known as the cooking street because it has everything that a restaurant would need to buy: from plastic food for display to fancy Japanese knives. There are also some great pottery stores that sell plates, cups and tea pots.
Gift giving is a top priority within the culture, so there is an endless supply of gift shops everywhere.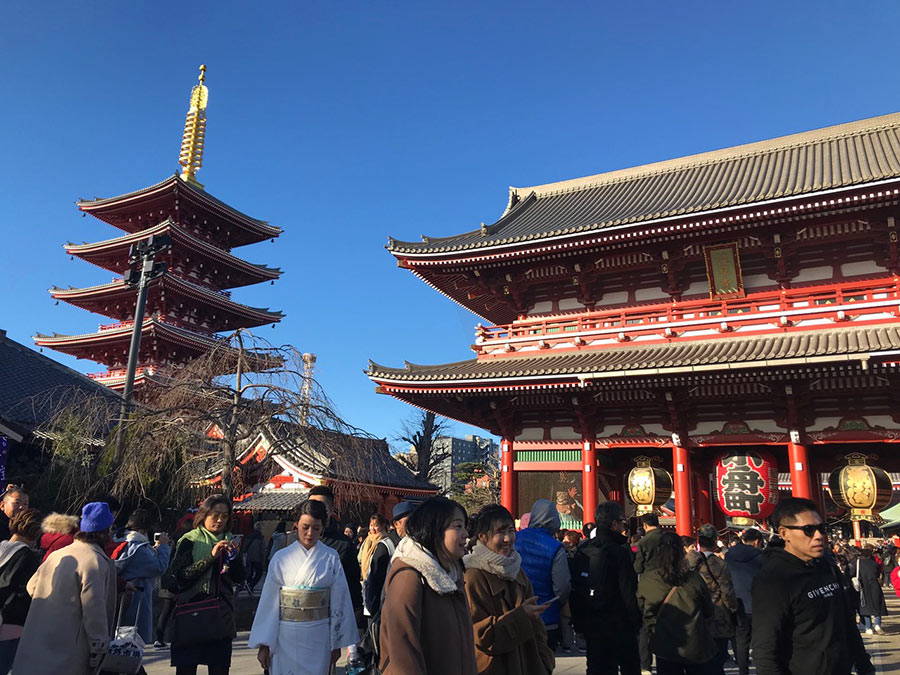 Shibuya:
Shibuya and Shinjuku (located within Tokyo) will give you the big city vibe. Shibuya is known for its hectic street crossings. It's kinda like Tokyo's version of New York's Time Square. There's a Starbucks that has some big windows and it's quite fun to watch the crazy crowds in any direction; massive amounts of people fill the crosswalk. Look for the statue of Hachiko, the dog that would loyally meet his owner at the train station every day even after the owner's death.
Shinjuku:
Shinjuku is similar with its exciting lights and flashy Tokyo experience. There's a great garden that costs 200 yen (about $2) to enter. Additionally, there's a street called Golden Gai that consists of a bunch of little bars, mostly standing room size. This area is fun to explore and is also very tourist friendly.
Tokyo National Museum:
The Tokyo National Museum is a great place to go if you want to see some traditional Japanese art and cultural artifacts. It only costs 600 yen (about $6) to enter and it's a very large museum. They have some of the best national treasures on display. I definitely recommend this museum.
Tsukiji Fish Market:
The Tsukiji fish market is a must do! There's a tuna auction very early in the morning but I've never gotten there in time to see it. I have gone during lunchtime and tasted the most amazing sushi of my life; it was cut straight from the fresh tuna. I also had oysters that were to die for. It was oyster season when I went; huge freshly shucked oysters, a splash of vinegar and they're ready to eat.
Inokashira Park:
Inokashira park is another great area. They have swan boats and paddle boats that you can rent. I rented one and ate my lunch out on a little lake. This is also where the Ghibli museum is located. This museum focuses on popular anime films such as Spirited Away and Totoro. I have yet to go because tickets always sell out right away. I've heard great reviews of the museum be sure to look into tickets before coming!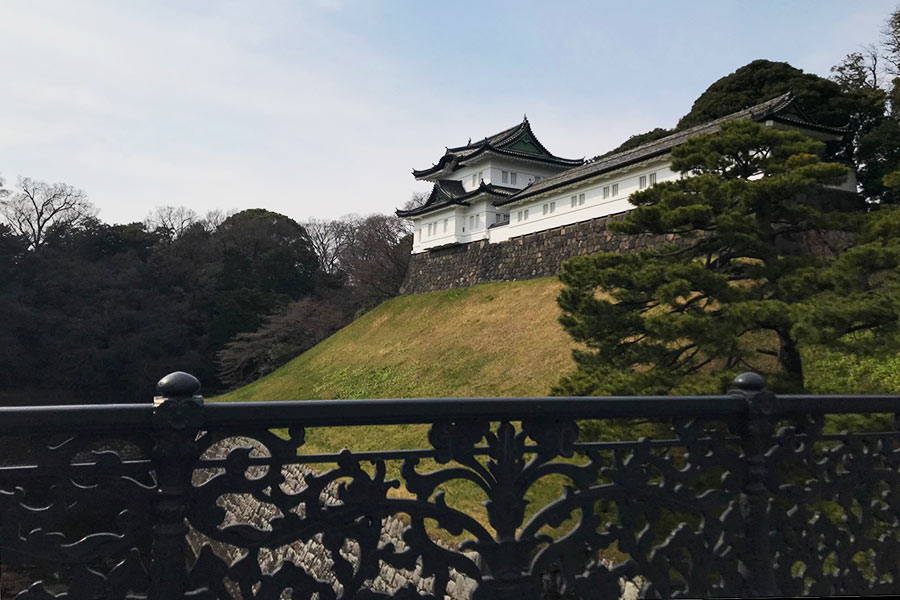 Kamakura:
If you're looking for a day trip outside of Tokyo then I recommend Kamakura. You can find a large Buddha statue here. It also features a Shinto shrine that's absolutely magnificent. This area has a beach so it can be very crowded in the summer but there's a great view of Mt. Fuji!
Kyoto:
The Golden temple of Kinkakuji in Kyoto is another site that can't be missed. It's magnificent; covered completely in gold leaf. The Arashiyama bamboo forest and the Tenryuji temple are located an hour outside of central Kyoto and are both great experiences. Lastly, I've been to the Higashiyama area, which is the longest standing region in Kyoto. It's very touristy with many young Japanese girls dressed in kimonos having their photos taken. If you're traveling from Tokyo to Kyoto by train, ask for a mountain seat so that you can see Mt. Fuji when you pass it.
Jigokudani Monkey Park:
I was also able to visit the snow monkeys. The best time to see them is in the winter because they come down from the mountain to be in the hot spring. I visited the Jigokudani Monkey Park in Nagano, which is where the 1998 winter Olympics took place. From Tokyo this is a long day trip and it's rather expensive.
If you go to Kyoto, there's a smaller monkey park. This one doesn't have a hot spring but you're able to feed them. The monkeys roam freely so you must be respectful of them when visiting.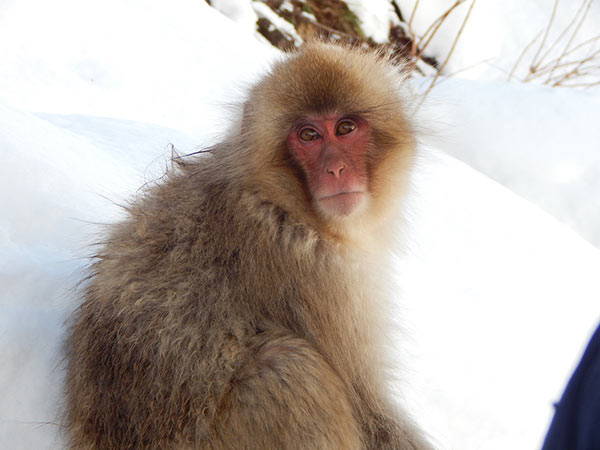 ---
About the author:
Hello, my name is Heidi. I'm 24 years old and am currently living in Tokyo, Japan. I have lived here for 8 months now and am very pleased to share my experience!
A bit about myself: I was born and raised in Lunenburg, Massachusetts. After graduating high school, I moved to San Diego to start college at San Diego State. I completed a Bachelor's degree in Anthropology with a minor in Sociology. There are four sub-fields within Anthropology that I had to study: Biological, Cultural, Linguistic and Archaeology.
I'm very intrigued by the cultures of the world. I found that Anthropology was a great fit for my interests. During my undergraduate work, I studied abroad in England. While there, I traveled to 8 countries by myself. I fell in love with travel and the thrill of visiting new places. After graduating university, I enrolled in an English as a Second Language certification. While this certification is not required for all jobs, it's very helpful.
I've had a long history of teaching children, first starting as a gymnastics coach, then an after-school science teacher, then a cooking teacher. I knew that I would excel in another teaching environment and I looked forward to teaching children from other cultures.
My first English teaching position was with a summer camp. We received children from many different countries including Russia, China, Japan, Israel, Switzerland, Italy, Brazil, and others. This was a great exposure to teaching students from different backgrounds.
I set goals to travel abroad and applied for a couple different companies. One in Vietnam, and two in Japan. After thoroughly researching each company, I decided to work for Kids Duo. The most popular opportunity for working in Japan is with the JET program yet I missed their deadline.
If you're interested in working in Japan, I would be happy to answer any other questions. Please feel free to email me at   hlgiancola @ gmail . com
---