Kids USA Geography Game & Map


Created by a team of professionals to help young minds learn all about the USA.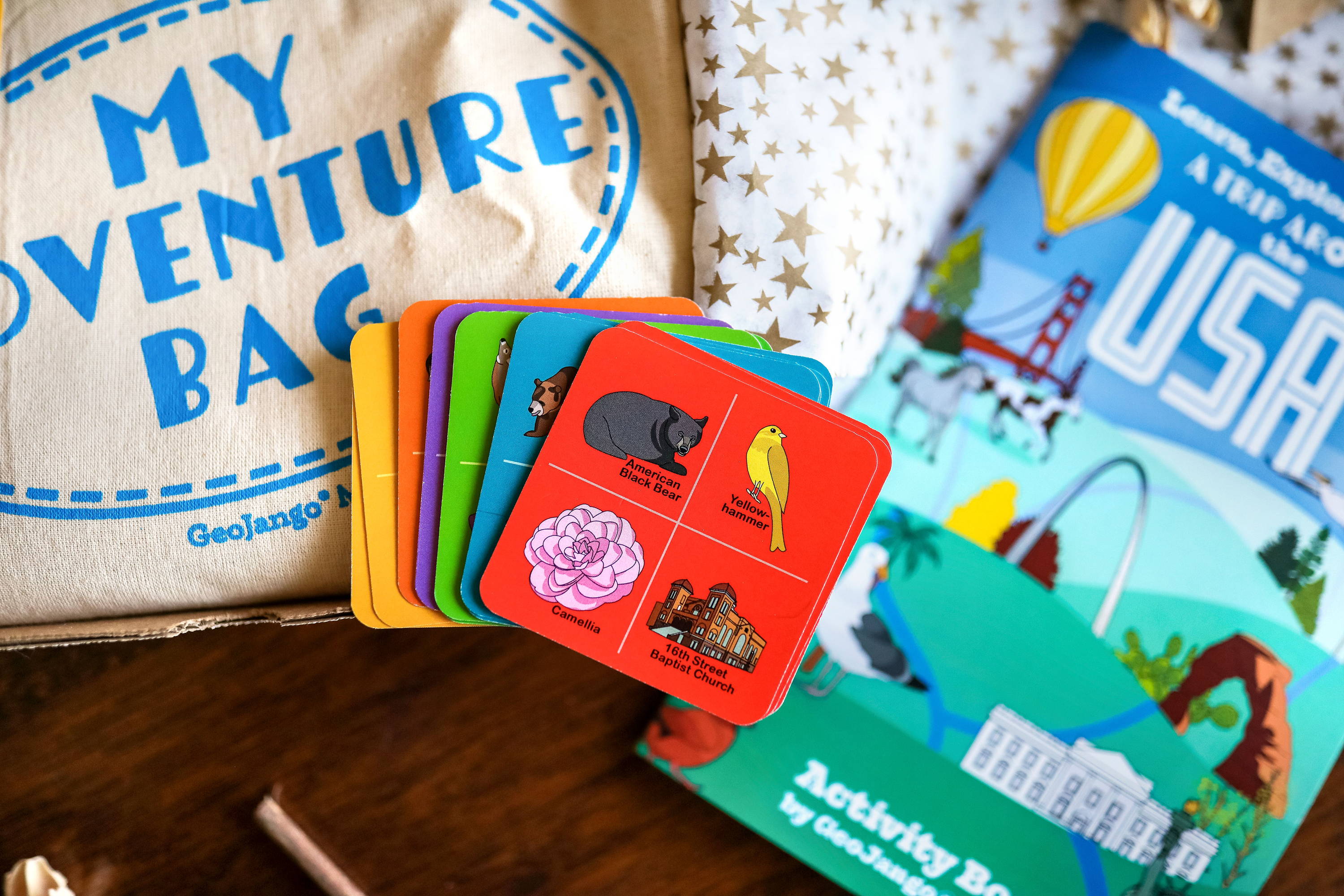 ACTIVITY CARDS FOR EACH STATE

Each card illustrates the shape of each state and the capital, and the name of the state on one side. The reserve side features illustrations of the state symbols including the state bird, animal, flower, and a landmark.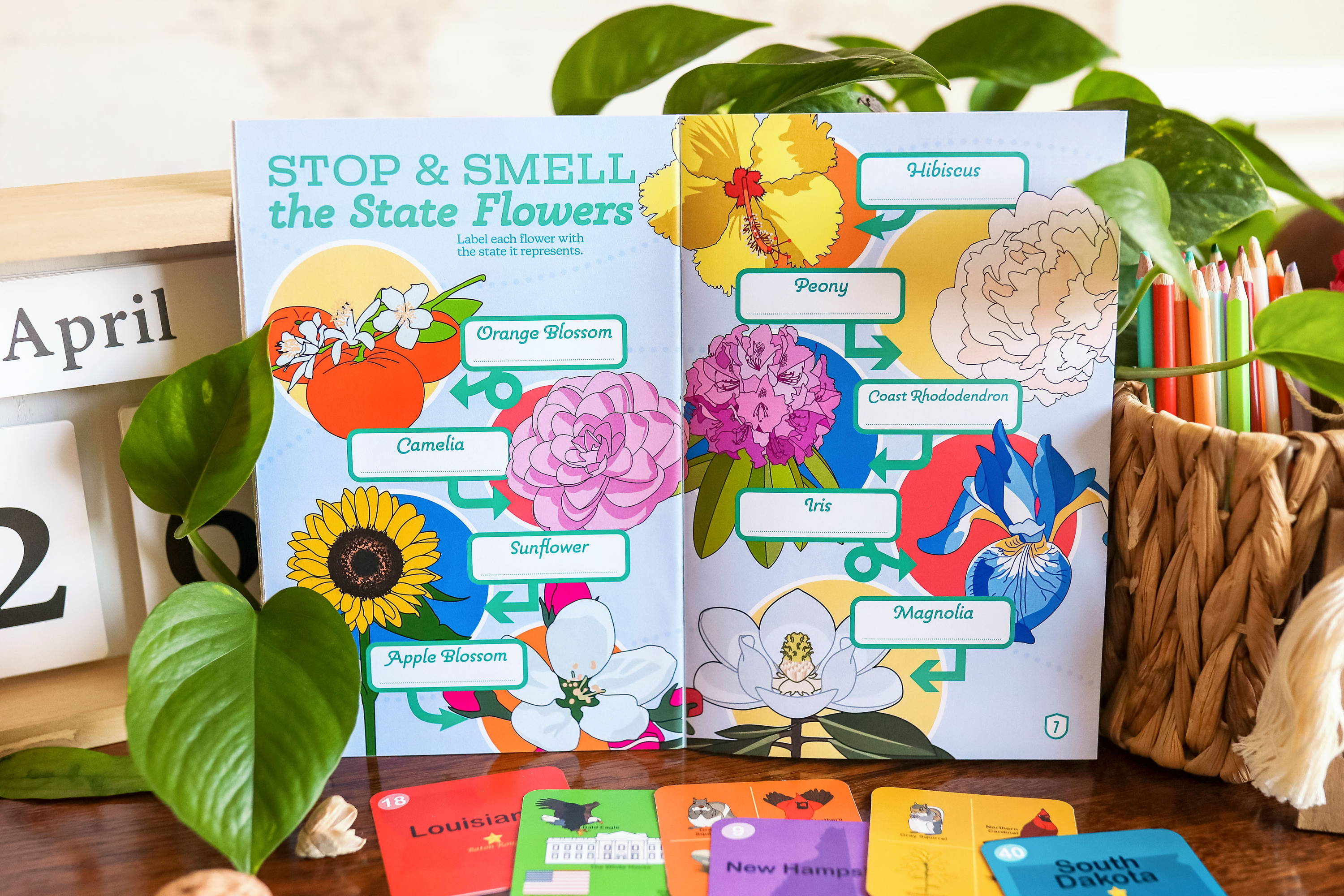 BEAUTIFUL ACTIVITY BOOKLET

The beautifully illustrated Activity Booklet features fun activities to keep the whole family challenged. Discover details about your specific home State, practice your seeking skills by finding details on the map, match States to their capitals, untangle word scrambles and much more!
Our large (36x24 inch) map is durable and made of poly-fabric that is resistant to tears and liquids. This USA map is beautifully designed with hand drawn illustrations showing important symbols and landmarks for each state in the USA.
A TRIP AROUND THE USA ADVENTURE BUNDLE

Learn, explore, and play with us on a trip around our beautiful country. This bundle was created by our team of professionals to help young minds learn all about the USA. Discover important landmarks, find state capitals, identify state birds and flowers, and locate items on the map. Children will hit a varity of academic standards while playing with this adventure bundle.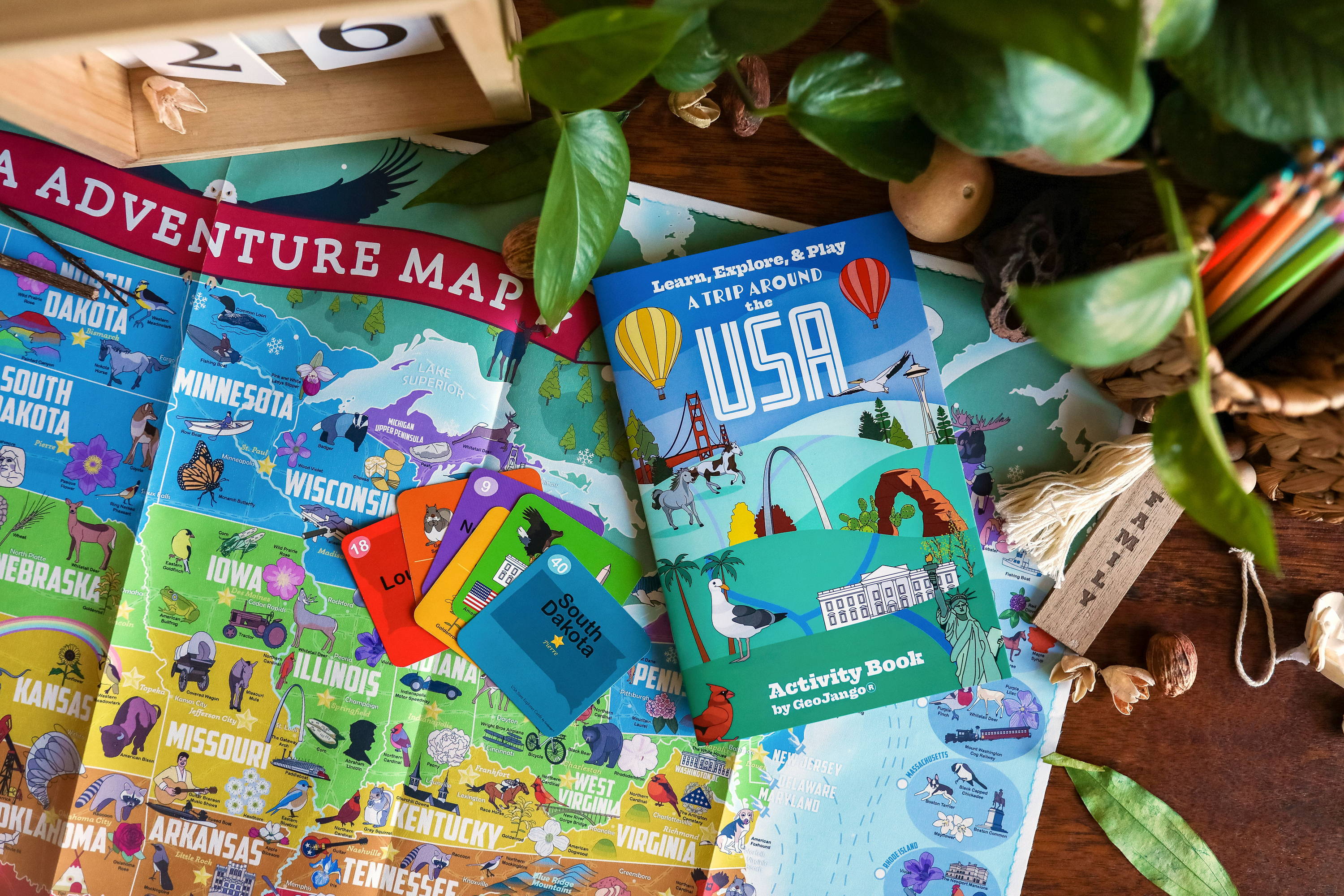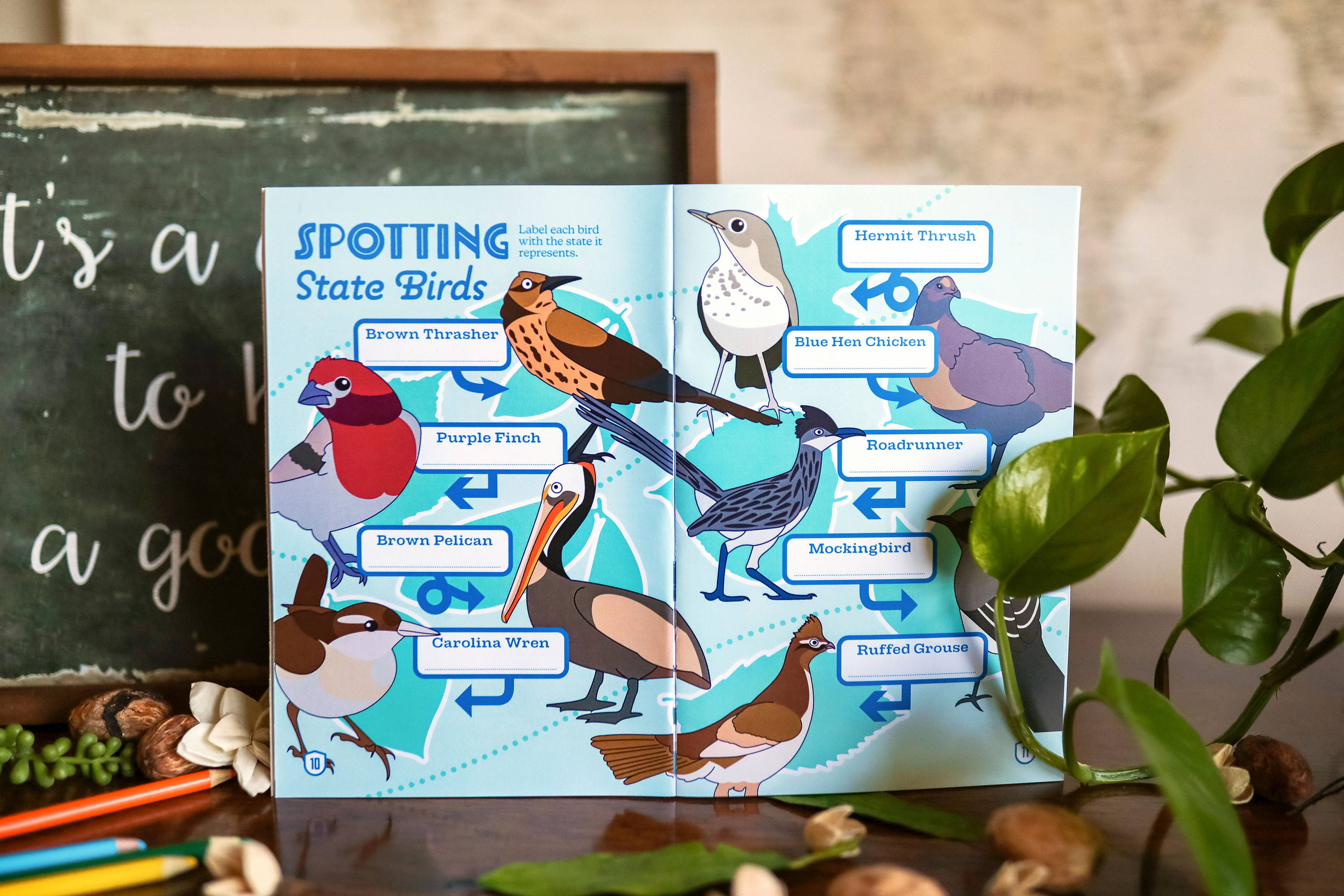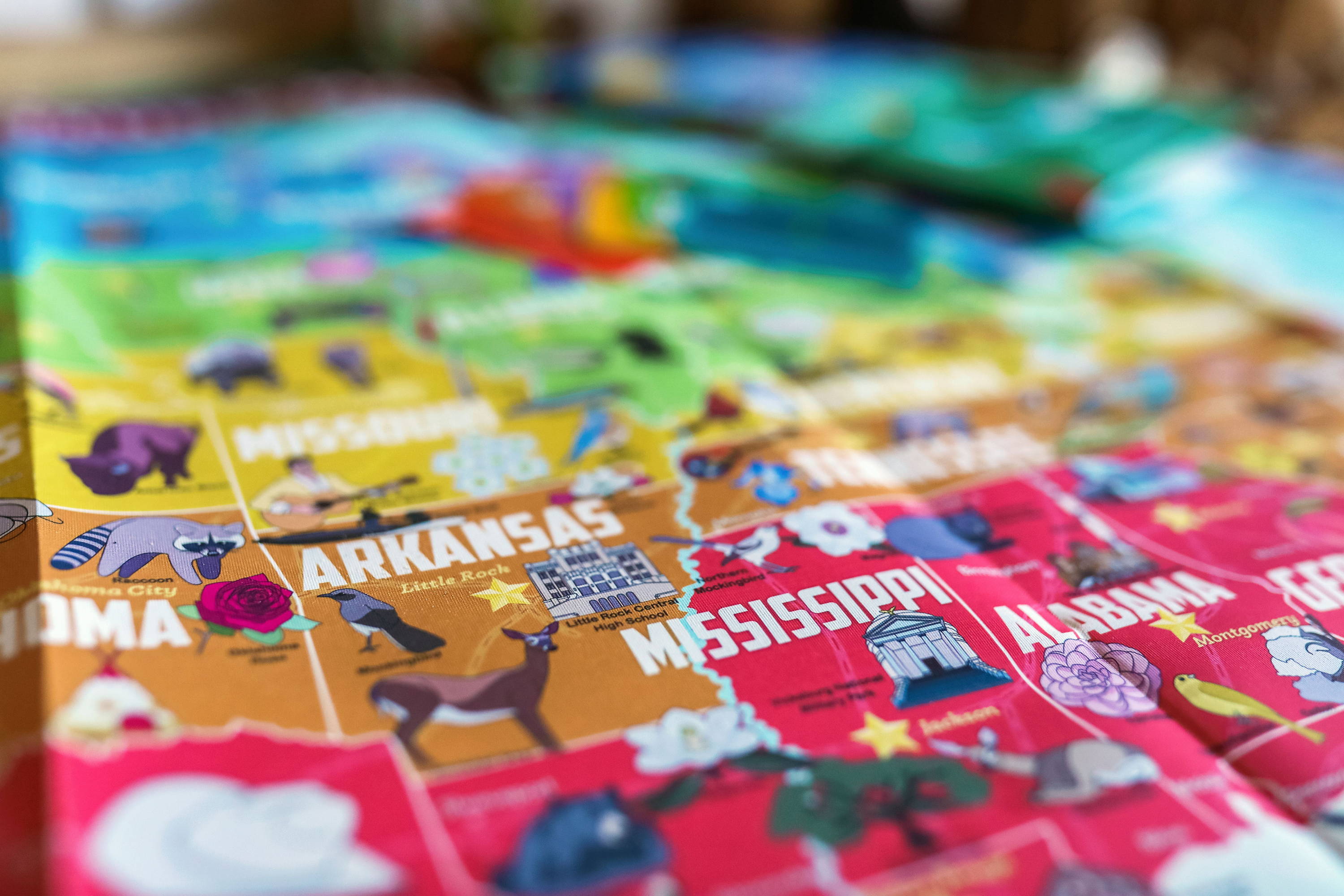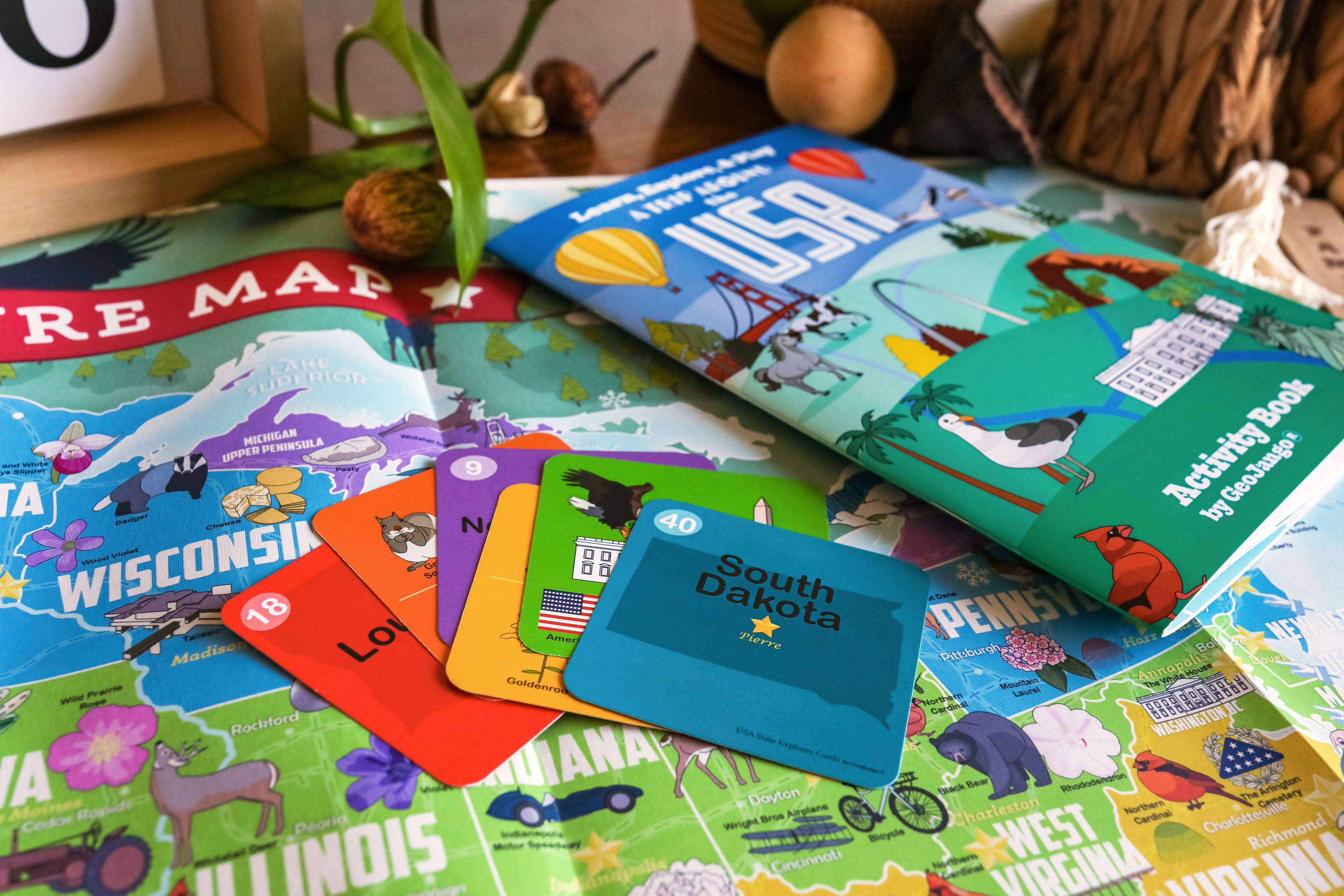 PERFECT FOR HOMESCHOOLERS & EDUCATORS

Play-based learning for the win! Keep your students engaged with fun and exciting games we've already created for you. Designed by professionals in education, geography, and geospatial imaging, this adventure bundle is a high quality and reliable product that is perfect for homeschoolers and educators.
✪ 1 Activity Book - This Activity Book will help teach children about the geography of our country.
✪ 1 Large USA Fabric Map - 36"X24" map made of tear resistant fabric.
✪ 51 Activity Game Cards - To seek and find symbols for all 50 states and capitals.
✪ 5 Game Markers - Colored Cards to cut for your game play.
✪ 1 Adventure Bag - To pack your geography materials in a bay and take with you on trips and outings.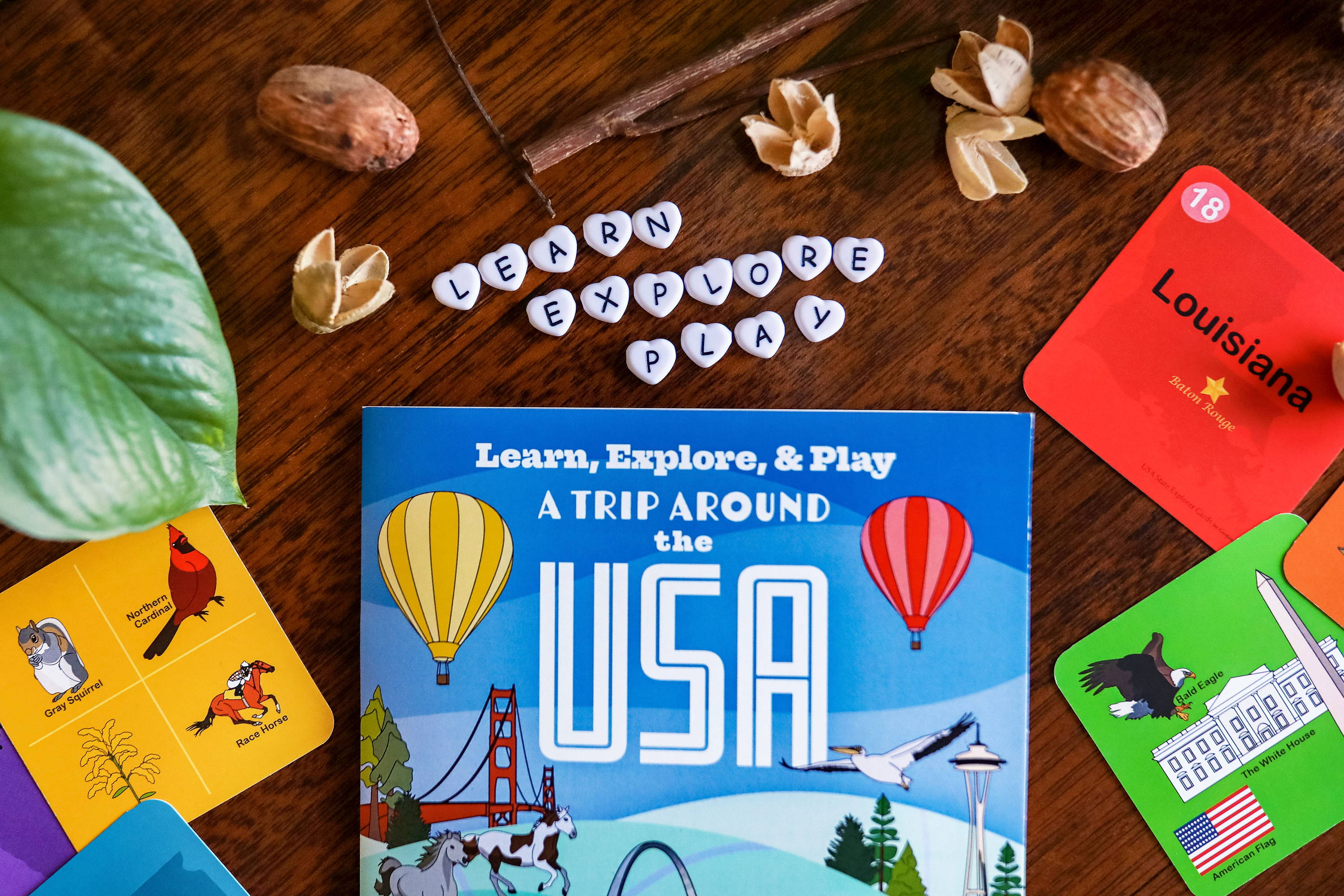 GREAT FOR LEARNING ABOUT THE USA

"Perfect for my grandson who loves geography! Loved the colors and the activity book is fun."
-Ruth E.
"I'm blown away with the complete package and everything that comes with the Kids Adventure Pack. The fabric map is incredible. My kids use it like table cloth on their table and love using the book and cards to find things in the map. Great product GEOJANGO!!"
-Heather W.
"The fabric map looks awesome and love how it is durable and can be used anywhere. The packaging is so impressive. The cards and game booklets look amazing!!
-Mary H.